Leadership & Staff
Rabbi George Gittleman
Rabbi George Gittleman joined Shomrei Torah as our first full time rabbi in 1996.
In 1991 he embarked on his rabbinical journey after 8 years in computer sales, obtaining a Masters in Hebrew Letters and Ordination from the Reform Seminary, Hebrew Union College Jewish Institute of Religion in 1996.
Rabbi George is also a Senior Rabbinic Fellow at the prestigious Shalom Hartman Institute in Jerusalem, and a graduate of the Rabbinic Leadership Program of The Institute for Jewish Spirituality.
Executive Director Katie Evenbeck
Ka
tie comes to CST with a wealth of management, budgeting and fundraising experience.
For more than 17 years, Katie has served as the Executive Director of St. Dorothy's Rest, an Episcopal camp and retreat center located in West County. Katie has also served as the Community Services Director in the Indiana prison system; ran YMCA Camp Roger in Salt Lake City, UT; and is an AmeriCorps Alum.
Katie has a BA in Economics & Sociology and an MS in Sociology. She will be graduating from the Church Divinity School of the Pacific in May with an M.Div. Her current program includes two years of experience working in a congregational setting.
When not working or in school, Katie enjoys spending time with Lucie, her twelve-year-old, Ike, her partner, and Rosie, her Lab Corgi. She is an avid documentary film fan, softball mom, Zumba instructor, and creator of pediokies, an experience of getting a pedicure while singing Karaoke!
Email Katie at execdir@cstsr.org
Cantorial Soloist & B'nei Mitzvah Coordinator Erica Wisner
Erica Wisner serves as Cantorial Soloist at Congregation Shomrei Torah. In addition to leading services, Erica directs the CST choir and tutors B'nei Mitzvah students. She loves to create musically themed Shabbatot.
Erica, a Sacramento native who lived in New York City for a decade while pursuing a career in musical theater, is a professional musician with a master's degree from The Boston Conservatory and a bachelor's degree from UCLA.
As a young child, Erica grew up going to services and fell in love with Jewish musical liturgy when her parents started a synagogue in Sacramento County. After considering Cantorial school in 2006, but determining the timing wasn't right, Erica feels blessed that life has come full circle with this position at CST.
Erica and her husband, Chris, moved to Santa Rosa in 2008, after marrying here in 2007. They are the proud parents of Noah and Lael.
Youth Coordinator Morgan Folger
Morgan is our Youth Coordinator, running youth programming for congregants grades pre-K to 12th. Growing up in Sacramento, she was incredibly involved in her synagogue, B'nai Israel, where she helped lead music and services during the religious school, was a madricha, and volunteered in the Cantor's office. After graduation, she attended UCSB, where she majored in English and Religious Studies and graduated a member of Theta Alpha Kappa, the national honor society for religious studies. In her Torah study and sermon writing she enjoys combining her Biblical Hebrew and Judaic studies with the literary critique and analysis she learned in undergrad. She plans on one day going to Rabbinical school to become a Rabbi. She is excited and thankful to have an opportunity to work at Shomrei Torah and to work with and learn from Rabbi Stephanie and Rabbi George.
Religious School Director Brandon Binder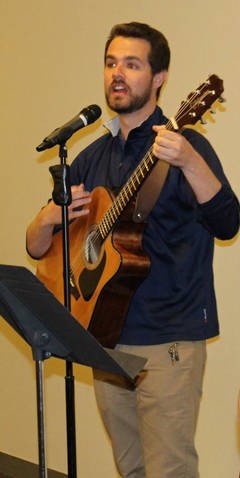 Brandon Binder is our interim STaRS Director for the 2021-2022 school year. Brandon oversees the religious school program on Sundays and Wednesdays. Prior to this role, Brandon was our youth group director, URJ Service Corps Fellow, music teacher, and KIDdish teacher. Brandon spent many summers on the leadership team at URJ Camp Newman and plans to bring camp ruach to STaRS.

Outside of CST, Brandon is a public school music teacher. Brandon received his bachelor's degree and teaching credential from Sonoma State University and recently earned his master's degree from the University of Colorado, Boulder. Brandon met his wife, Lauren, at CST while volunteering at the kid's camp after the fires. They live in Santa Rosa with their puppies, Hank and Bocelli.
Wed, August 4 2021
26 Av 5781
CST Office Phone:
707.578.5519
Office Staff
Katie Evenbeck, Executive Director
---
Erica Wisner, Cantorial Soloist & B'nei Mitzvah Coordinator
---
Brandon Binder, Religious School Director
---
Morgan Folger, Youth Coordinator
---
Julie Hash, Office Administrator
Julie is in charge of membership pledges and billing as well as publicity for events in the Voice, weekly emails, or the website.
---
Seraphima Chisler, Facility Coordinator Seraphima is in charge of the facility and the facility calendar; scheduling events, and working with the committees to schedule classes and programs.
---
Denise Harrison, Temple Liaison Denise is the de-facto CST historian and the first person to welcome new congregants. Denise will be at Shabbat services, temple events, and holiday celebrations ready to greet and assist you.
Board of Directors
President: Ann DuBay
John Weinstein: VP Finance
Eli Weinzveg: Secretary
Sharon Bauman, David Fichera, Pamela Loman, Erica Magers, Jillian Navarro, Nicole Novach, Richard Reisman, Judith Richlin-Klonsky, Desmond Shapiro, Ellen van den Berg, Donna Waldman
Committee Chairpersons
CARING COMMITTEE
Bonnie Ferber Hart
CULTURAL COMMITTEE
Beverly McChesney
DIVERSITY, EQUITY, INCLUSION
AND BELONGING (DEI&B)
Marilyn Nagel
DONOR/NAMING OPPORTUNITIES
Dianne Smith
EXECUTIVE COMMITTEE
Sharon Bauman
FINANCE COMMITTEE
John Weinstein
HUMAN RESOURCES COMMITTEE
Jillian Navarro
JEWISH MEDITATION PLANNING COMMITTEE
Judith Richlin-Klonsky
JUDAICA SHOP COMMITTEE
Lindsay Goldenberg
LEGACY CIRCLE COMMITTEE
Irv Rothenberg
LIFELONG LEARNING COMMITTEE
Rabbi George Gittleman
ONEG COMMITTEE
Susan Roth
RELIGIOUS SCHOOL COMMITTEE
Dave Fichera
RELIGIOUS PRACTICES COMMITTEE
Rabbi George Gittleman
SECURITY COMMITTEE
Arnold Rosenfield
SOCIAL ACTION COMMITTEE
Judy Kay
Group Leaders
BAGEL CLUB
Rick Reisman, Jerry Newman
BUTTONS
Chuck & Debbie Tesler
CHAVURAH
Jan Schwartz
CHOIR
Erica Wisner
ELISHA'S PANTRY
Stephen Harper
GREETING CARDS
Lee Spitzer
GRAPHIC DESIGN
Susan Bailyn
LITERARY CIRCLE
Sandy Sidorsky
LIBRARY
Stan Roodman
TORAH ORGANIZERS
Fran Danoff
WEBSITE
Jay Peretz
WOMEN'S INTEREST GROUPS
Ronnie Campagna
Wed, August 4 2021 26 Av 5781